Succulent
Red Succulent Flower for Indoor Landscape
Red Flowering Succulent
Red succulent flower for indoor landscape is quite popular. As red is a strong colour that stands out from the crowd. Succulents with red flowers are a lovely addition to any interior landscape. Even if you are short on house plants, a single red flowered succulent on your side table can provide a splash of colour to the space!
Succulents with red blooms are fantastic gifts for yourself, friends, and family. Such plants light up whatever place they're in and emit a lot of pleasant energy. You see, red is a really strong hue. In China, the hue is associated with prosperity, good fortune, and happiness. Meanwhile, in America, this colour represents passion, power, and love.
Red Succulent Flower
There are many succulents with red flowers including Christmas Cactus, Opuntia, Crown of Thorns, Katy Kalanchoe, Flamingo, Peanut Cactus, Burro's Tail, and others. In addition to red, succulents produce pink, white, peach, orange, and purple blooms. Mix and combine succulents to make a stunning succulent arrangement for your house.
In this article, you can see some stunning succulent species with vivid red flowers that you may buy for a home or as a present for a friend. So, if you want to have succulents with red flowers, keep reading.
Red Delosperma Cooperi
Delosperma cooperi Red blooms with delicate small red flowers in the spring, summer, & fall in warmer climates.
This fantastic ground cover includes a variety of colours, but its red variety is the most well-known. It is an excellent addition to any garden.
Christmas Cactus
Choose the Christmas Cactus for an eye-catching red flower arrangement throughout the holidays. If you like red blossoms, then immediately propagate Christmas cactus in water. Aside from red, the same species may be found in white, yellow, pink, and purple blooming forms. The flowering can linger for weeks, especially if you give it the attention it deserves.
Plant it in nutrient-rich, well-drained potting soil and keep the soil continuously wet throughout blooming. Make sure the container has drainage holes at the bottom to allow excess water to escape. Place it near a window with indirect lighting. East-facing windows are typically the ideal places to place your Christmas Cactus.
For flowering to begin, the surrounding temperature must be somewhat colder, ideally between 50 and 55°F, with at least 14 hours of darkness per day for around six weeks. Once the buds form on the leaf tips, begin treating it every two weeks or so with weak doses of a low-nitrogen fertiliser.
Cactus Orchid
These succulents with red flower petals are breathtaking! Orchid Cactus, also called Epiphyllum Fantasy Dragon can reach a height of 8 inches and a width of 12 inches.
This red-flowering succulent has the main crown of joined petals & secondary outer divided petals. To look vigorous and vibrant, orchid cacti should be developed in hanging containers outside, where they can get plenty of sunlight.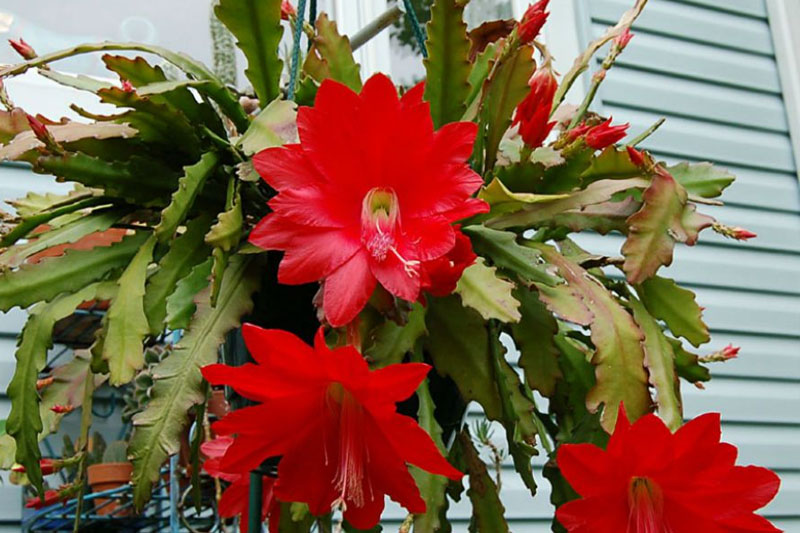 Torch aloe Red succulent flower
Torch aloe, which is related to the notorious aloe vera and numerous other aloe types, is a popular option for the stunning orange-red blossoms it produces each winter. It's a sturdy species with sword-shaped leaves and vivid conical flower bunches that appear above the foliage that works well as a houseplant and an outdoor plant.
Plant them on healthy, well-drained soil in the garden or in a nice cactus mix inside. They prefer to be in the sun but may take slight shade. They will love continuously wet soil but will not tolerate overwatering.
In contrast to other succulents, which are compact plants, the torch aloe grows more like a shrub, reaching heights and breadth of roughly 10 feet if planted in the appropriate conditions. During the growth season, use a well-balanced diluted fertiliser, but switch to low-nitrogen mixtures just before the flowering season.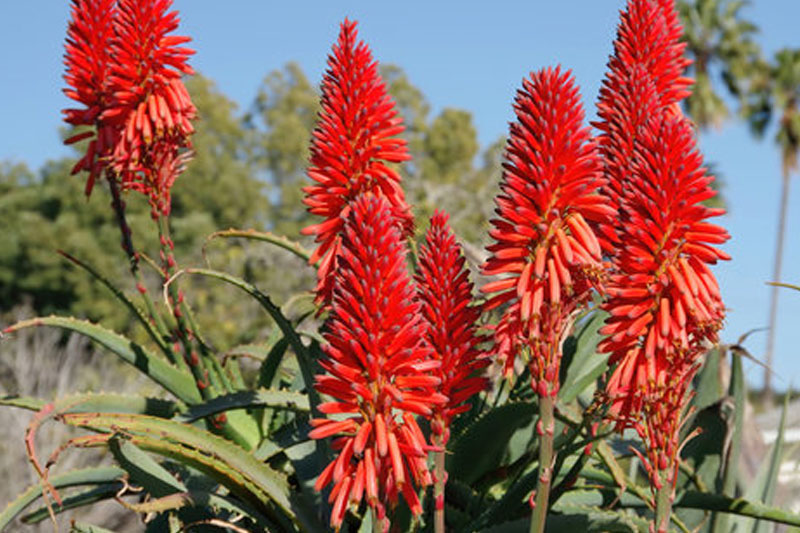 Katy Kalanchoe, Flamingo
The Flaming Katy Kalanchoe, according to many growers, is the most lovely red petal succulent on the earth. Its name is appropriate for this plant so when it develops, flaming red blooms develop it during the winter season, making the plant look stunning.
So, if you want to focus on making your home look bright and red during the winter, keep in mind to get this one.
Baby Sun Rose
Aptenia Cordifolia, often known as Baby Sun Rose, is another lovely red-blooming succulent that works well as a ground cover in both indoor and outdoor settings. The little red blooms that develop on the variety in spring and summer, together with the fleshy, small leaves in a fresh green hue, quickly enhance the image. What's most remarkable is that the blooms bloom in the afternoon and fade away in the evening.
Although they do not grow very tall (averaging around 6 inches tall), their horizontal spread is fairly quick and may readily cover a 2-foot area when given proper conditions. Plant them in well-drained soil in your outdoor rock gardens, hanging baskets, or container arrangements.
Allow the soil to nearly totally dry before watering, then water the well. For constant nutrient availability, use diluted water-based fertiliser on a regular basis, or incorporate a slow-release mix twice a year.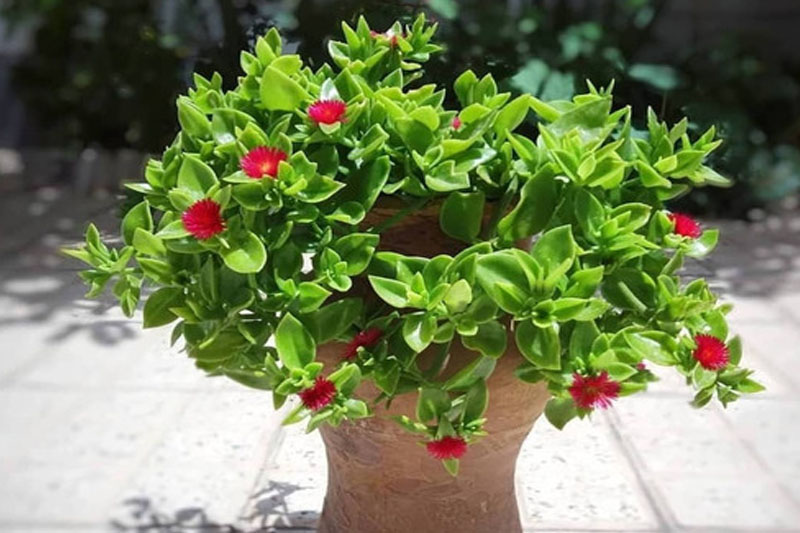 Crassula Morgan
This Beauty is a lovely small rising succulent plant with bright red-pinkish flowers. The blooms appear in spring and spring up from a ball of personal, tiny pink flowers.
Crassula Morgan's Beauty has an adorable appearance. It has chubby, dusty, silver-blue foliage that develops tightly in front of each other.
It's a great collector's plant that can be grown in any garden or container.
Echeveria Black Prince Red succulent flower
Echeveria Black Prince's red flowers are an excellent addition to an already beautiful plant.
It is mostly grown for its leaves, which range in colour from dark brown to purple to almost totally black.
The leaves of Echeveria Black Prince are formed in a rosette pattern. Its red flowers appear on a dark brown stem in winter in warmer climes and in early April in colder climates.
This succulent plant attracts a variety of pollinators, including insects and birds. It is a hardy plant that grows well both in pots and outdoors.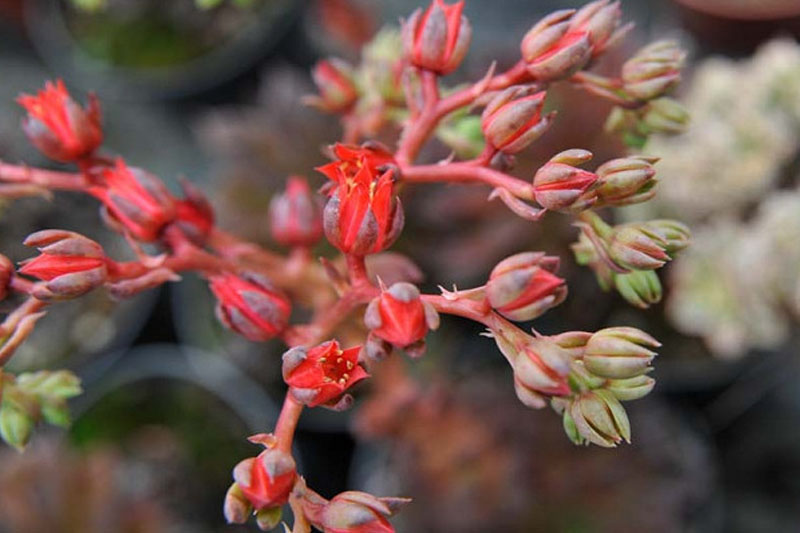 Red Sunflower plant
Baby Sunflower plant, also known as Aptenia Cordifolia, is another beautiful succulent with red flowers that fits well as a ground cover in both outdoor and indoor settings.
Along with its flesh and tiny green foliage, the plant's small red flowers that bloom in the spring and early summer instantly lighten up the atmosphere. What's unique about this flower is that it blooms in the afternoon and locks in the evening.
Even though it only grows to a height of six inches on average, the plant's horizontal spread is quite rapid and can easily cover a two-foot area when given the right growth conditions.
This plant should be included in your container setups, hanging baskets, as well as outdoor rock gardens. At the very same time, make certain that it is planted in well-draining soil.
Zebrina Huernia Red succulent flower
If you want a plant with both colour and shape, Huernia Zebrina is the plant for you. It is endemic to southern Africa and thrives in sunny and warm growing conditions. It is also called the Lifesaver Plant.
Its flowers appear to have light-coloured petals and a striped corolla, with a velvety and reddish ring in the centre called an annulus.
Huernia Zebrina has a creeping growing tendency, so you may wish to provide some assistance. The nice part about this succulent is that it does not require much care. If you wish to grow it indoors, simply put it in a well-draining potting soil mix. If you want to plant it outside, make sure it is in a sunny location.
Milii Euphorbia Red succulent flower
The crown of thorns is another name for this succulent. If Flaming Katy Kalanchoe wasn't on the list, this would be the most beautiful succulent with red flowers.
Euphorbia Milii has eye-catching red flowers. It is a sleek and small plant in appearance. However, its red blooms resemble cute buttons perched on top of the plants.
This unusual succulent is native to East Africa, specifically Madagascar. So, if you're looking for a tropical succulent plant, this is a great choice.
Pincushion Cactus
Pincushion Cacti are famous succulents with red flowers that thrive indoors. They are perfect for office desks because they are visually appealing and take up little space.
This plant has the pretty standard cylindrical cactus shape & grows only a few inches tall. Its blooms are typically pinkish-red, but they do not always appear.
Red Burro Tail Red succulent flower
This is another lovely succulent with red flowers. Burro's Tail occasionally generates both red and red flowers.
This plant does flower, but it does so infrequently. You must expose it to a great deal of sunlight for it to flower. As a result, grow it in an unshaded location to ensure that it receives the sunlight it needs to bloom.
If you want to plant it inside, place it where it will get the most sunlight so it can flower.
But don't worry if you can't get it to bloom; you'll still like it for its presence. It has a lovely appearance with good tendrils & long pale green trailing stems.
Red Aloe Arborescens
Beautiful Aloe Arborescens succulents are close family members of Aloe Vera and are said to have the very same healing power as Aloes. This succulent is one of the most lovely red blooms, but it's only suitable for outdoor planting because it grows to about three feet in height on average.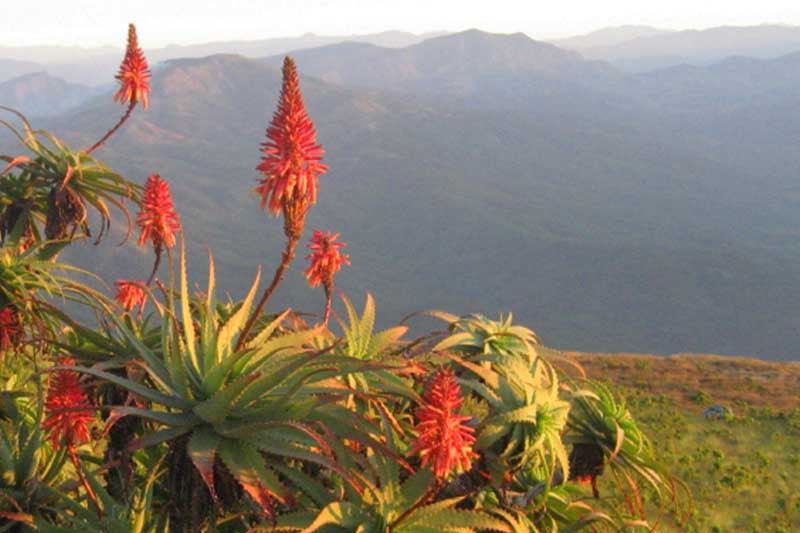 Conclusion
If you're looking for a beautiful and easy-to-care-for succulent for your indoor landscape, the red succulent flower is a great option. With its colourful blooms and low-maintenance needs, this plant can brighten up any space. So, why not add a little bit of colour to your life with a red succulent flower?