Succulent
Stapelia Grandiflora evergreen succulent details
Stapelia Grandiflora is an evergreen perennial succulent with no spines in the Apocynaceae family. It has four-angled, erect, toothed stems. Starfish Flower and Carrion Flower are other names of Stapelia Grandiflora.
Stapelia Grandiflora Descrption
This plant seldom grows taller than 20cm. The succulent stems and huge, spectacular, star-shaped, foul-scented, patterned, textured, hairy, cream and pink-purple blossoms are the main reasons for its cultivation.
Giant Stapelia grows in bunches, branching around the base, and is a common houseplant. You can grow it outside in rockeries in hot climates.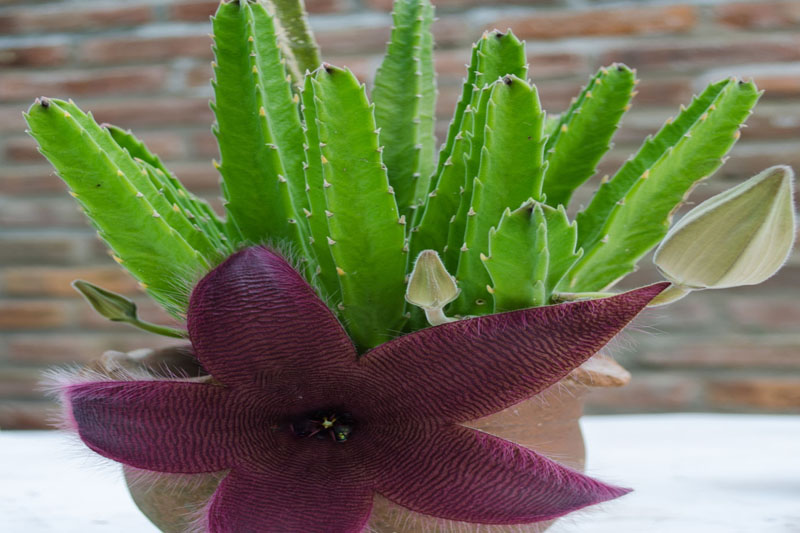 Starfish cactus and carrion flowers are the other common names of Stapelia Grandiflora. These stinking, but stunning, plants are comparable to those in the carnivorous family in that they have insect-attracting foliage (but are not carnivorous). So they range in size from a few inches (5 cm.) high to plants with 12-inch (30 cm.) broad blooms. Because this plant is native to South Africa, developing starfish blossoms normally need warm, humid conditions.
These plants are not cactus, but rather members of the succulent plant family. They have soft stems with no spines that extend out from a central point. They have thick skin and look like carrion flesh. The starfish flower cactus may produce stunning five-petaled blossoms with an unpleasant odour. Flies and other insects are easily attracted to the smell, which pollinates the blossoms. Flowers range from crimson to brown and are speckled with several hues. The family name of the starfish flower cactus is Stapelia. The "gigantea," a spectacular specimen with foot-wide blooms, is the most regularly harvested.
After a few days, the blossoms produce a terrible smell. This odour attracts insects that feed on decaying organic matter. If you have a fruit fly or other insect problem, consider transplanting your stinky plant love into the area. So the insects are lured to the carrion odour and remain motionless on the blossom.
Therefore starfish cactus is most commonly used as a beautiful specimen that is quite a talking piece. The broad succulent branches have little decorative value on their own, but when the flowers bloom in the summer, the plant has a big wow impact. Of course, this is when you must deal with the stench, but if the stink is too strong, you may transfer it outside. So remember to bring it inside if you live in a zone other than USDA plant hardiness zones 9 to 11.
Note: So if you are looking to add some beautiful Easiest succulents to propagate in your backyard or surroundings you can check out Succulent propagation time lapse guide a worth-reading article.